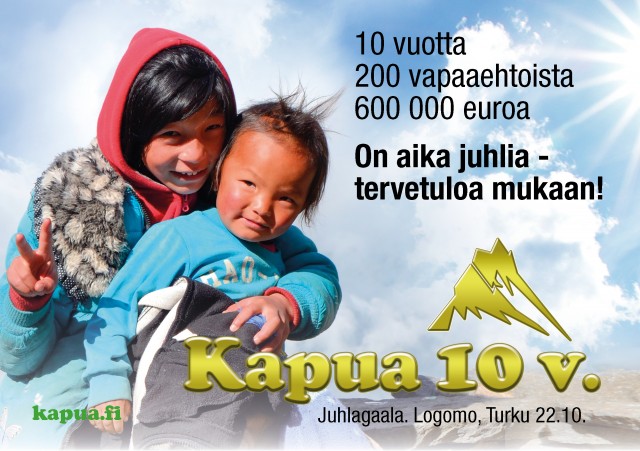 Kapua juhlii lokakuussa gaalaillallisella kymmenvuotista matkaansa hyvien puolella. Gaala järjestetään Turun Logomossa 22.10. ja sen juontavat kapuaja-tv-juontaja Nuppu Stenros ja tv-juontaja-näyttelijä-muusikko-taiteilija Sampo Marjomaa.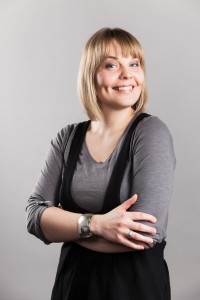 Mitä Nuppu Stenros ei ole tehnyt, sitä ei ole. Nuppu on juontanut mm. Ylen Summeria ja Helsingin juhlaviikkojen Huvila-telttaa, kirjoittanut muusikko Signmarkin elämäkerran ja työskennellyt vapaana toimittajana. Nuppu on myös kerännyt varoja ja kiivennyt Nepalissa 6189 metriä korkealle Island Peakille vuoden 2011 Kapua-projektissa. Tällä hetkellä Nuppu tekee Sitran ja Heurekan yhteistä Seitsemän sisarusta tulevaisuudesta -kiertuetta.
Viestinnän ammattilainen Sampo Marjomaa on moniosaaja kuten Nuppukin. Hauskojen kotivideoiden lisäksi Sampo mm. käsikirjoittaa ja ohjaa musiikkivideoita ja lyhytelokuvia, toimii elokuvateatteri Orionin sing-along-näytösten esilaulajana, puolustaa palavasti eläinten oikeuksia ja On julkaissut yhtyeensä Dark Countryn ensimmäisen EP:n "Sign of the Dog" yhteistyössä Luonto-Liiton kanssa.
Lue lisää gaalasta ja tule juhlimaan kanssamme Kapuan 10-vuotista taivalta!
https://kapua.fi/wp-content/uploads/2016/08/a5-kortti-1.jpg
1748
2480
Suvi
https://kapua.fi/wp-content/uploads/2017/10/Kapua_logo_vihr-300x73-300x73.png
Suvi
2016-08-25 10:28:30
2016-08-25 10:38:46
Kapua-gaalan juontajiksi Nuppu Stenros ja Sampo Marjomaa