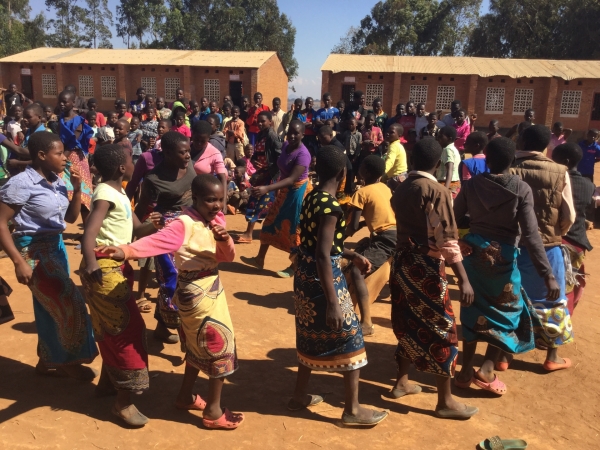 Terveiset Malawista maailman ehkäisypäivänä, jota vietetään joka vuosi 26.syyskuuta. Päivä tähtää siihen, että nuoret voivat tehdä seksuaaliterveyteen liittyviä valintoja oikean tiedon perusteella, ja että jokainen lapsi saisi syntyä maailmaan toivottuna. Mikä voisikaan olla parempi paikka oppia raskauden ehkäisyn merkityksestä kuin Malawi, joka on yksi maailman köyhimmistä valtioista.
Haastattelimme sekä Väestöliiton kehitysyhteistyön asiantuntija Laura Lipsasta ja paikallisen nuorisojärjestön CYECE:n (Centre for Youth Empowerment and Civic Education) koordinaattori Prisca Chakholomaa ehkäisyn saatavuudesta Malawissa. Katso video tästä.
Meille Kapuajille päivä oli täynnä voimaantumisen kokemuksia, vaikka tapaamisen aikana nousseet asiat olivatkin rankkoja. Vierailimme paikallisessa koulussa Dedzassa, jossa tutustuimme  tyttökerhon jäseniin. Heidän puheissaan toistuivat mm. pelko lapsiavioliitoista ja seksuaalisesta hyväksikäytöstä. Samalla kuulimme myös tavoista, joilla asioita yritetään muuttaa ja ratkaista sekä tyttöjen tulevaisuuden haaveista. Tyttöjen unelma-ammatteja olivat esimerkiksi opettaja, sairaanhoitaja, rehtori ja lentäjä.
Kohtaamisen perusajatuksena oli vastavuoroisuus, joten jaoimme heidän kanssaan oman elämän tarinoita. Kerroimme perheistämme, opiskelusta, lapsista ja ammatillista valinnoistamme.
Päällimmäisenä tapaamisesta jäi usko ja toivo siihen, että tytöt saavat tukea ja pääsevät toteuttamaan oman elämänsä unelmia. Että he saavat kokea lapsuuden ja tulla äidiksi vasta kun on sen aika.
By supporting girls' education we can help little girls with dreams become women with vision.

—————————
Raportti sairastuvalta: Yksi varvas-, lonkka- ja polvivamma diagnosoitu ja myös vatsatautien päiväkohtainen keskiarvo (2) saavutettiin.
https://kapua.fi/wp-content/uploads/2018/09/2FE1417B-19ED-4327-96D7-9FEFF8F4DA5F.jpeg
1440
1920
Aino Försti-Smith
https://kapua.fi/wp-content/uploads/2017/10/Kapua_logo_vihr-300x73-300x73.png
Aino Försti-Smith
2018-09-26 20:38:04
2018-09-27 18:05:47
Maailman ehkäisypäivä: Jotta äidiksi tultaisiin silloin kun on sen aika